Hinekura
Availability ended 1/11/2020 GMT

(29 Oct-1 Nov worldwide) Aotearoa: 1600's. While playing games with her friend Tama (13), Hine (also 13) gets her first bleed. Protective and gentle, Tama escorts her to her mother. The whanau joyously send her to a distant site set aside for sacred female rituals. She is accompanied by other women from the tribe, including her mother Marama, her sister Rona and a guard, Te Haeata. When they arrive, Hinekura experiences her first ritual into womanhood. However Hine isn't ready to let her childhood go, so after setting up camp that night Hine sneaks back to the river to find Tama. She just wants to continue playing their games. But Tama aware of the importance of this time, tells her to to go back. She returns to find Te Haeata waiting for her near the campsite. Te Haeata begins to induct Hine into the school of weaponry. As they walk back to the camp, Te Haeata speaks to Hine about her role, but is cut short when she sees a stranger peering at them from in the bush. Hine and Te Haeata swiftly return to the camp where the women are waiting anxiously for her. Hine begins for the first time, to reflect on her role within the tribe as she watches Te Haeata guard them. The next day, Hine, feeling sorry for herself, retreats from everyone seeking solace at the lake. Her sister joins her. As they talk, the stranger from the other night arrives and tries to drag Rona away. Hine picks up her stick and fights the stranger knocking him down just as Te Haeata arrives. The event changes her as she finally understands her place as a protector of her people. Available Worldwide
Marks of Mana
Availability ended 25/10/2020 GMT

(23-25 Oct worldwide) The practise of tatau in the Pacific was once the domain of women, yet this ancient female art has been sidelined in history. This is the story of the women of Oceania who are putting the marks of their ancestors back onto their bodies again... Available Worldwide
TUNNIIT:RETRACING THE LINES OF INUIT TATTOOS
Availability ended 7/11/2020 GMT

(7 Nov worldwide) TUNNIIT: RETRACING THE LINES OF INUIT TATTOOS is the incredibly personal, poignant and political documentary from Inuk filmmaker Alethea Arnaquq-Baril. Inuit traditional face tattoos have been forbidden for a century, and almost forgotten. Arnaquq- Baril, together with long-time friend and activist Aaju Peter, is determined to uncover the mystery and meaning behind this beautiful ancient tradition. Together they embark on an adventure through Arctic communities, speaking with elders and recording the stories of a once popularized female art form. Past meets present in this intimate account of one woman's journey towards self-empowerment and cultural understanding.
KaYaMenTa: Sharing Truths about Menopause
Availability ended 25/10/2020 GMT

#WorldMenopauseDay 18 Oct — tackling the taboo around menopause once and for alll
(18-25 Oct worldwide) KaYaMenTa: Sharing Truths about Menopause' invites our sisters and our viewers to face their own fears regarding getting older, and . To humanize these experiences, we provide a personal understanding of menopause through an Indigenous women's lens – one that engages with core themes, such as sexuality, aging, spirituality, and healing. Special guests include: Actor Rena Owen, actor Michelle Thrush, comedian Sharon Shorty, musician Renae Morriseau, filmmaker Doreen Manuel, documentarian Jules Koostachin, and Integrative physican Dr. Anita Tannis - all come together to share their experiences.
My Mother My Rock
Availability ended 25/10/2020 GMT
Currently not available in your region.
A daughter's final promise to her dying mother comes true but the outcome is surprising and otherwordly.
(18-25 Oct UK only) An adult daughter returns home to her First Nations community to search for a boulder to make a fitting headstone for her mother's gravesite. Her and her teenage daughter are led in the search by an aunt who lives in the community. Prior to her mom's passing, the daughter made an unusual promise which came true. The daughter and her aunt recount the surprising circumstances at the time of her mother's death, which were welcomed, but otherworldly.
Statistics
Availability ended 15/11/2020 GMT

(now-15 Nov worldwide) A young mother with her daughter and friend encounter two men who fetishize Indigenous women. A month later the mother runs into one of the men who harassed them. She tries to take justice into her own hands but becomes another missing or murdered Indigenous woman.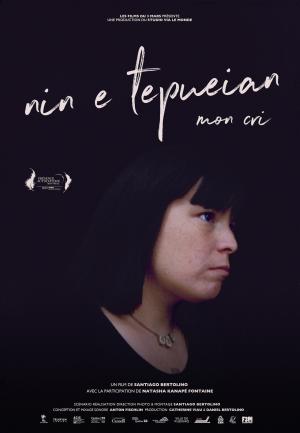 Nin E Tepueian (My Cry)
Availability ended 25/10/2020 GMT

NIN E TEPUEIAN - MY CRY - follows the journey of Innu poet, actress and activist, Natasha Kanapé Fontaine.
(19 -25 Oct worldwide) NIN E TEPUEIAN - My Cry tracks the journey of Innu poet, actress and activist Natasha Kanapé Fontaine, at a pivotal time in her career as a committed artist. To heal the wound of racism, Natasha has reappropriated her Innu language and becomes a media spokesperson. Words have helped her rediscover her roots and empowered her. She gets the conversation going, and as it develops, she questions the need for self-determination for herself as well as for other Indigenous people both here and elsewhere.